Table of contents
2019-07-28 Justadtinden
We arrived in Narvik with the night train from Stockholm and then took a bus to Svolvær on the 27th. On the 28th we picked up our rental car and went for Justadtinden.
It is possible to park for free at Harskaret, where they also have toilets and water. There were small lakes along the route, but no water streams (might be streams earlier in the season). There were also sheep roaming pretty much all the way to the top of Justadtinden so drinking from the lakes would perhaps be a bit risky.
Most of the trail was fairly easy but there were some steep parts close to the top where we had to use our arms to get up.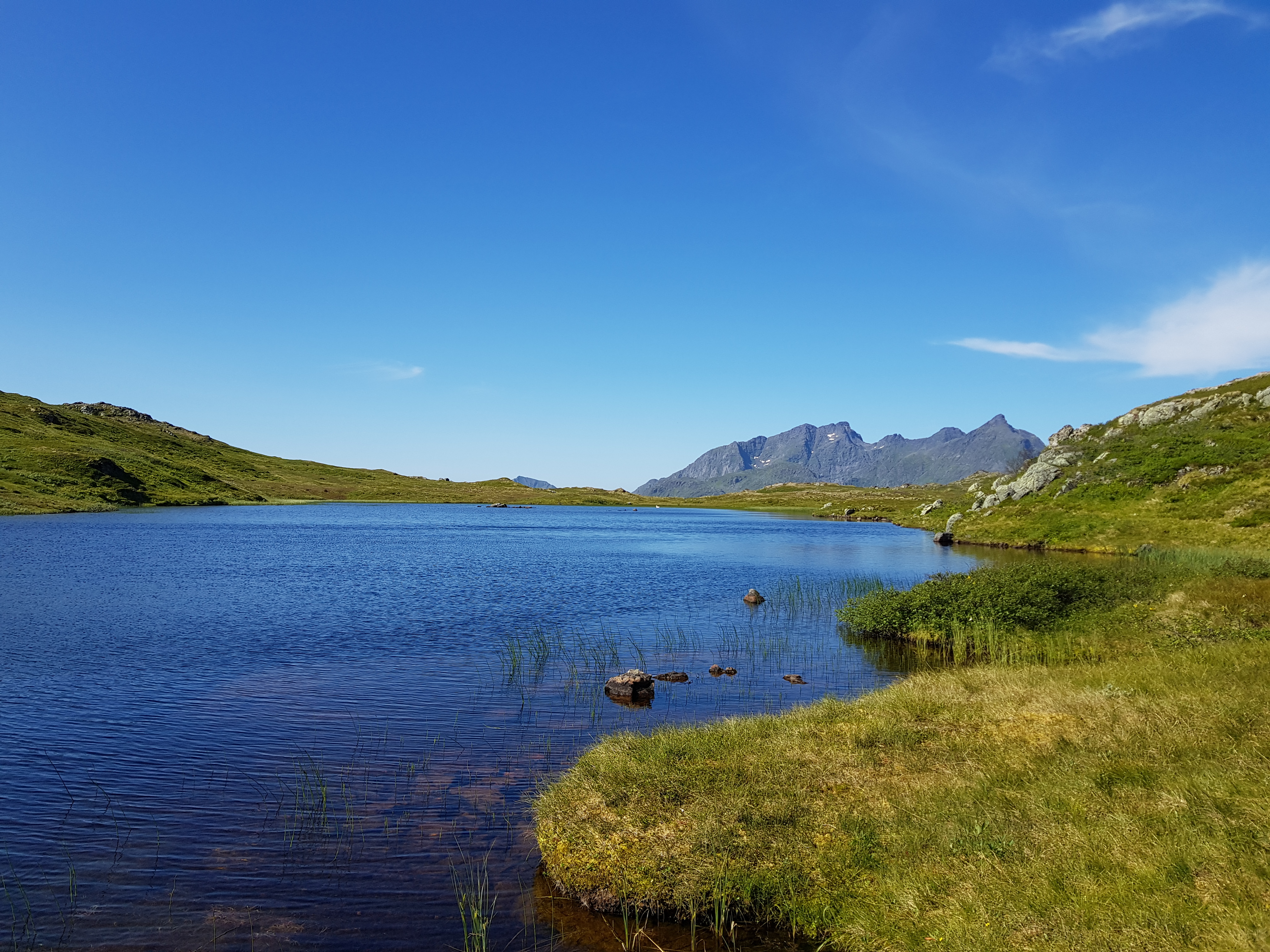 The initial plan was to set camp somewhere along the trail but we went to Lofoten beach camp instead due to the lack of drinkable water. Lofoten beach camp was pretty crowded but with a nice view.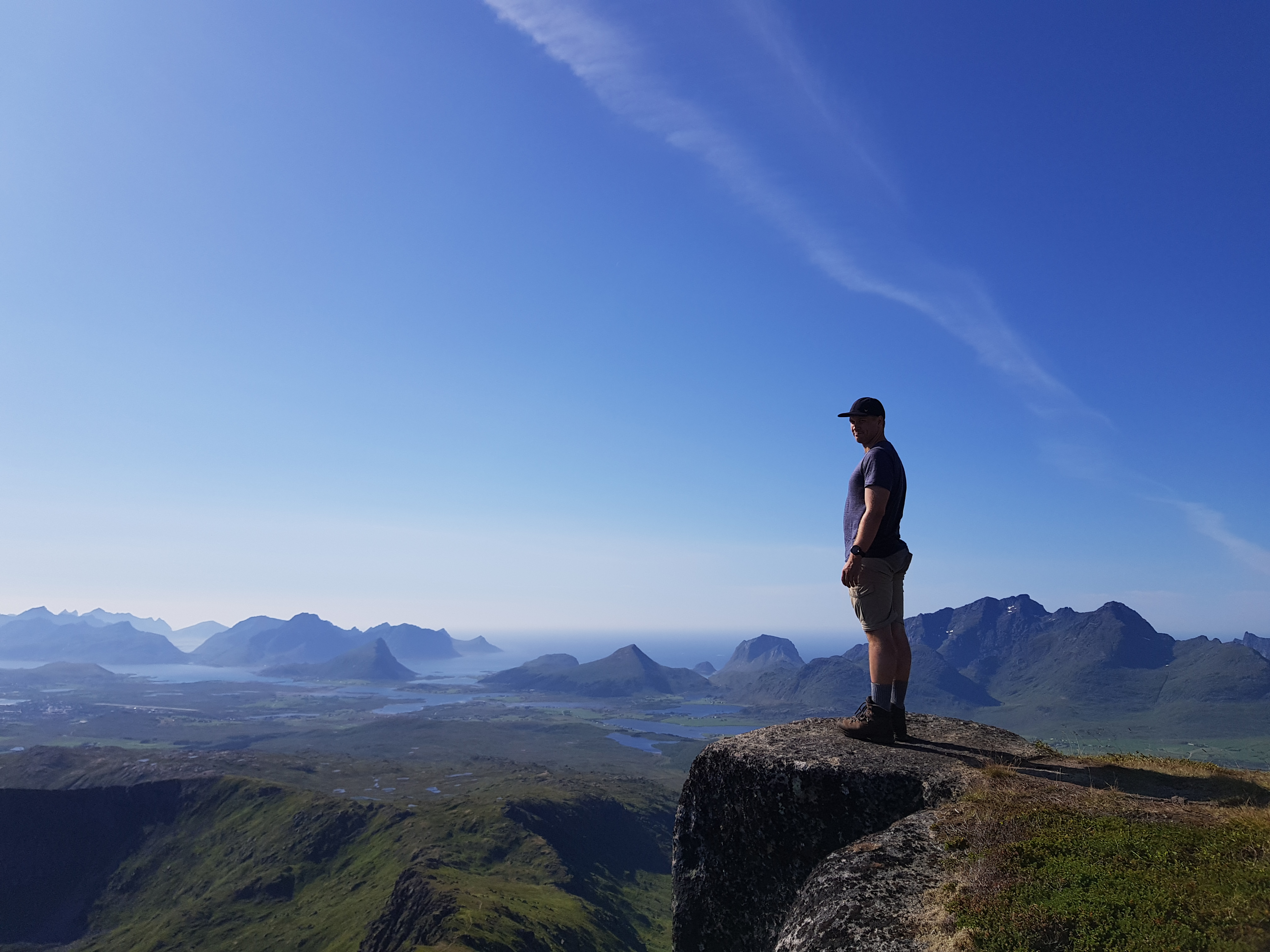 2019-07-29 Sørvågen - Hermannsdalstinden
We parked at the parking lot at the start of the trail (to the west/south west of Sørvågsvatnet). The parking costs 50 NOK per day (as did many other parking lots as well) so remember to bring some 50 NOK bills.
We started hiking in the morning and had our lunch break at the Munkebu hut where there is drinking water. After lunch we continued towards Hermannsdalstinden and decided to set camp at Hill 448 and ditch our backpacks before going up the summit. Most of the trail was fairly easy except for the part from Hill 448 to Hermannsdalstinden where some light climbing is required. The water in Krokvatnet felt clean enough for drinking so there were several other people camping close to the lake.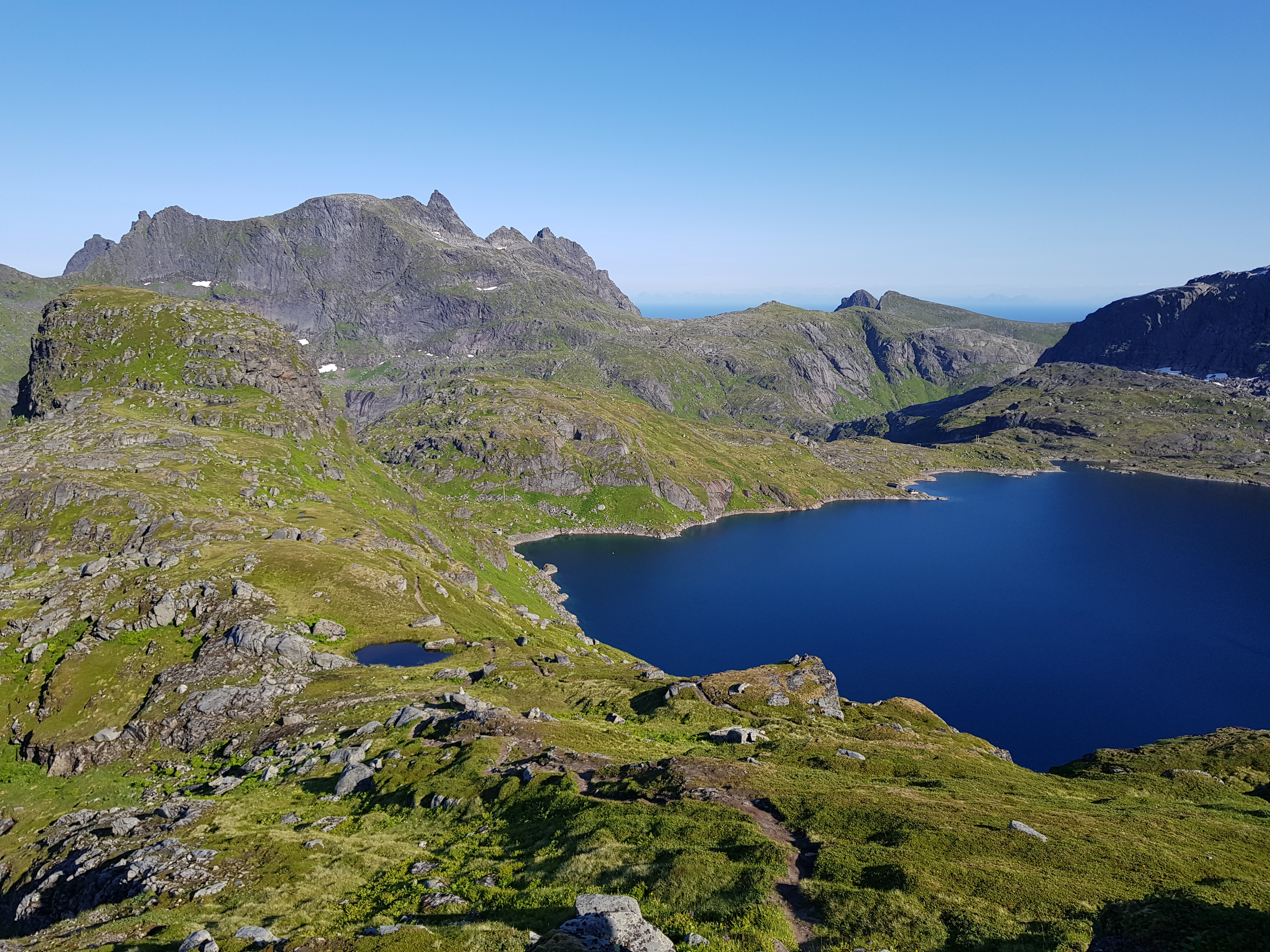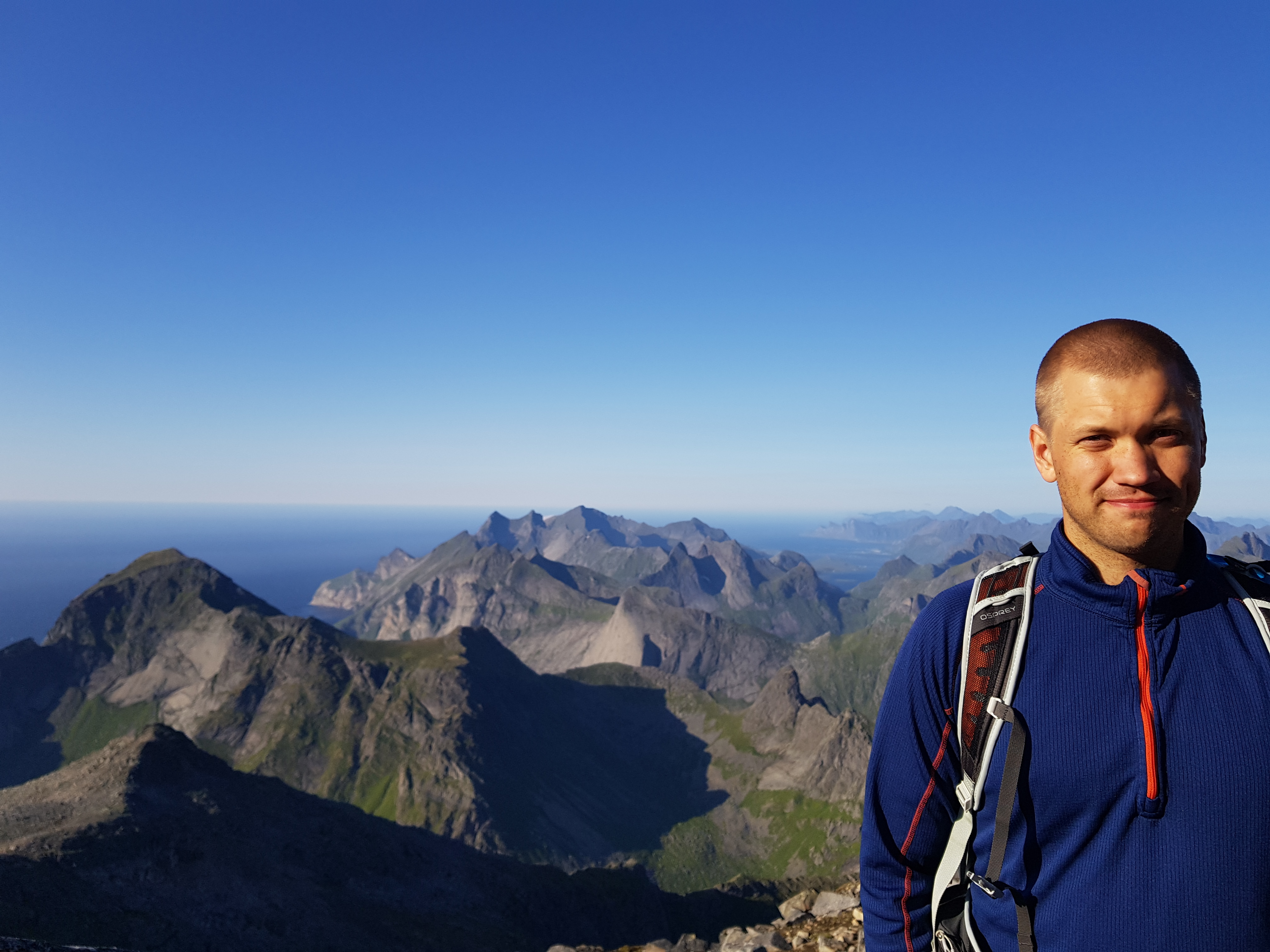 2019-07-30 Hermannsdalstinden - Sørvågen
We hiked back towards Sørvågen and had a lunch break at the Munkebu hut. The weather was nice and there was quite a lot of people on the trail. We (and many other people) set camp by the lake at Sørvågen, which is convenient since the toilets at the parking lot is then nearby. After setting camp I went for a short hike/run up to Tindstinden, but the trail was for most parts to narrow or steep for running.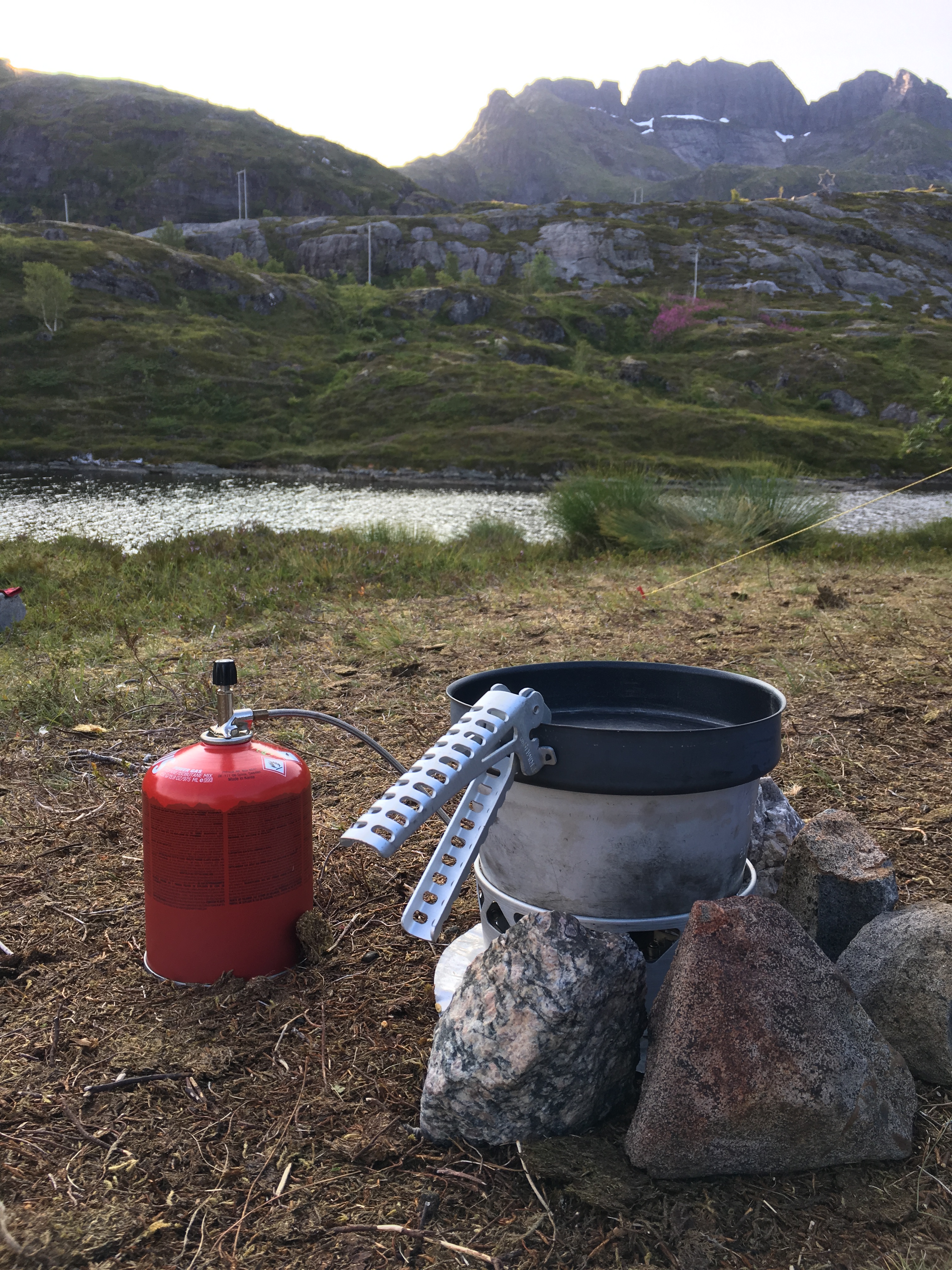 2019-07-31 Reinebringen and Kvalvika beach
The next day we drove to Å and had the best cinnamon bun ever at "Bakeriet på Å". It was interesting to walk around in the old fishing village and learn a bit about the history.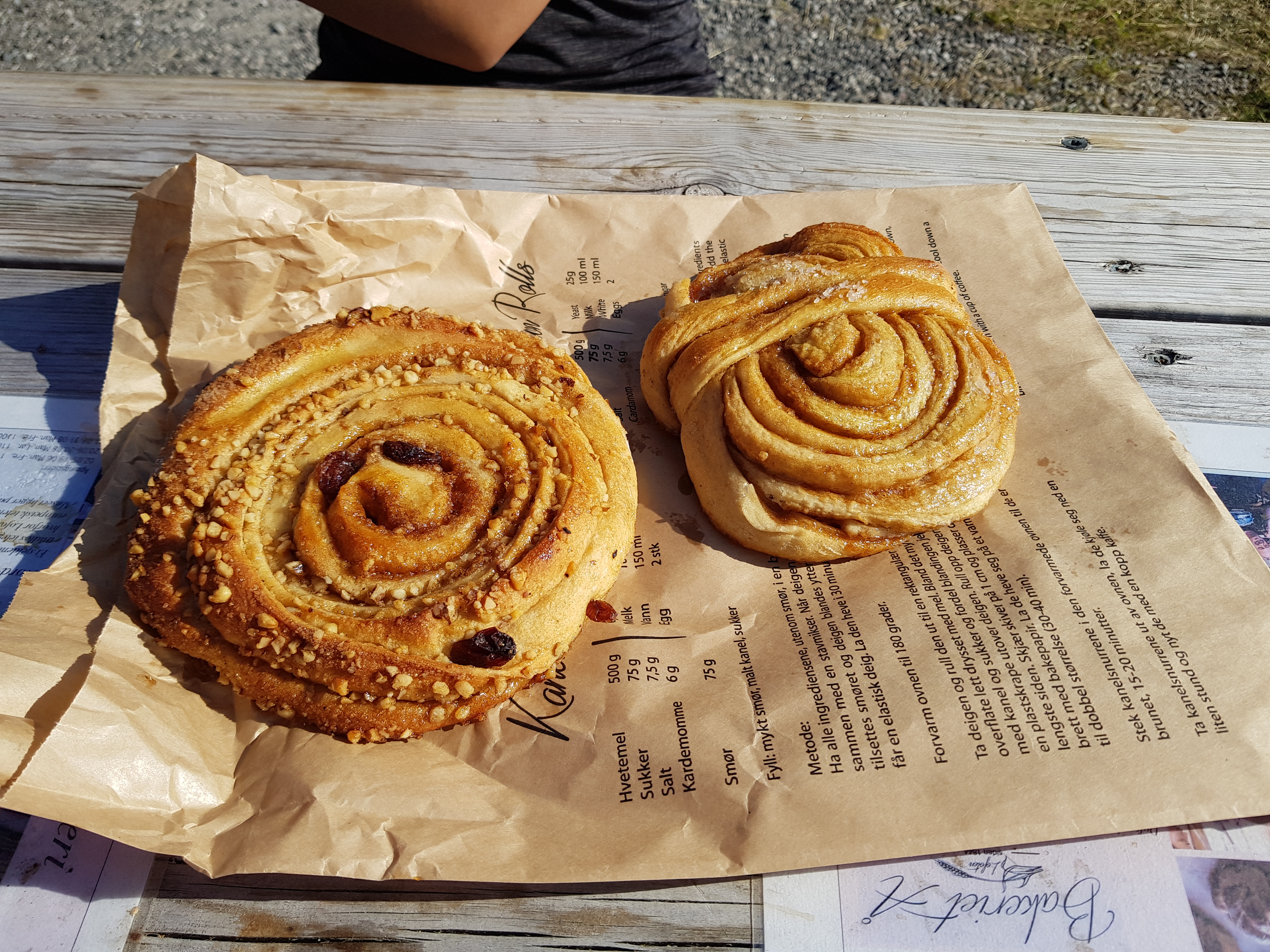 After Å we drove to Reinebringen and parked at one of the designated parking lots close to Circle K (50 NOK in cash). Climbing the summit was not as tough as we excepted, thanks to the stairs that had been built.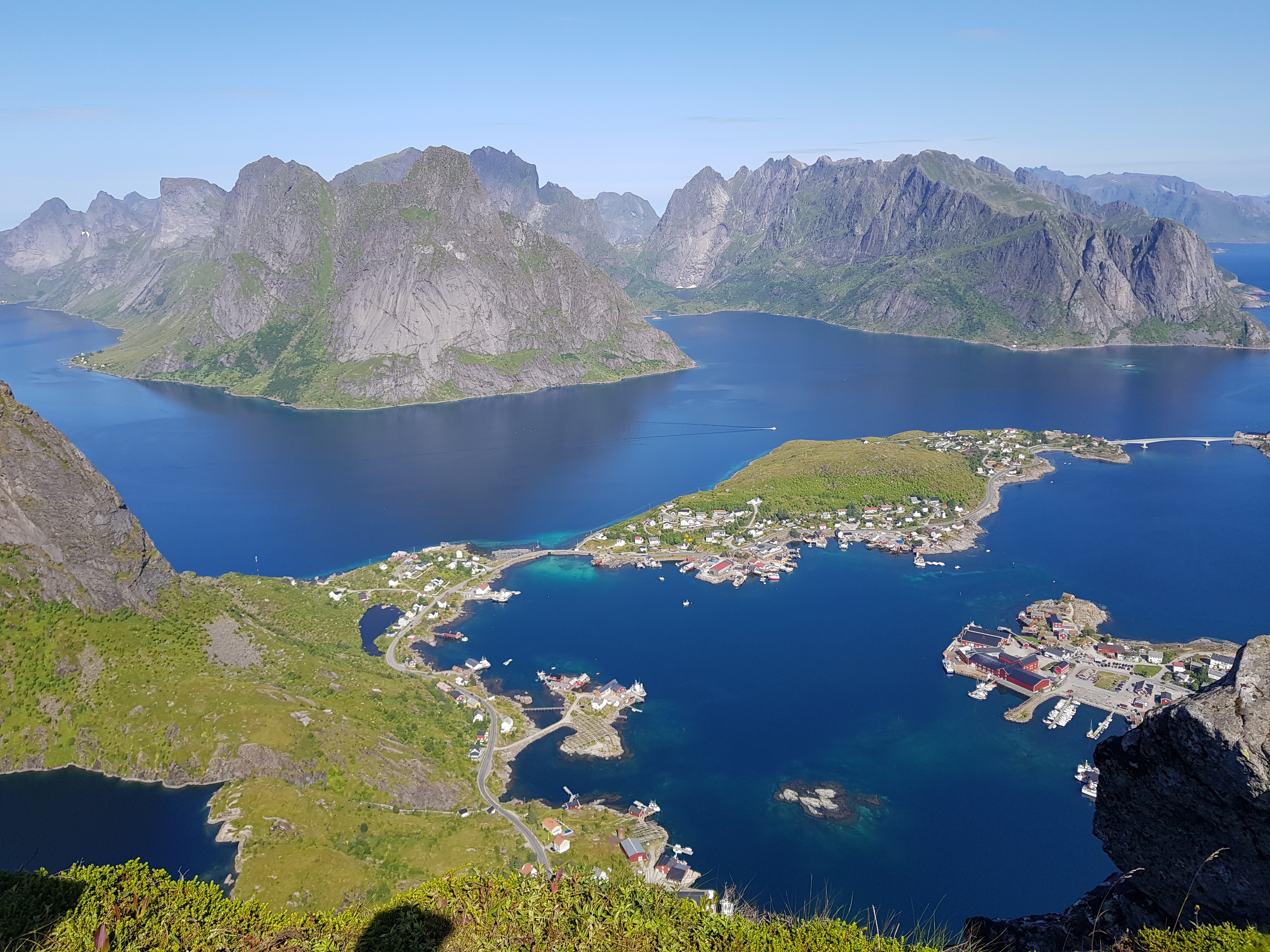 After descending, we drove to Fredvang. We first looked for parking lot along the Fv808 road, but the few spots were all taken. We therefore drove back and found a farm to the west of Fredvang (around 68°05'19"N 13°08'21"E) where they offered overnight parking, and WC + water, for 100 NOK. Thereafter we hiked to Kvalvika beach, it was unfortunately cold and windy on the way there. Kvalvika beach is beautiful though so it was definitely worth it! There is a small water stream leading down to the beach which people take drinking water from.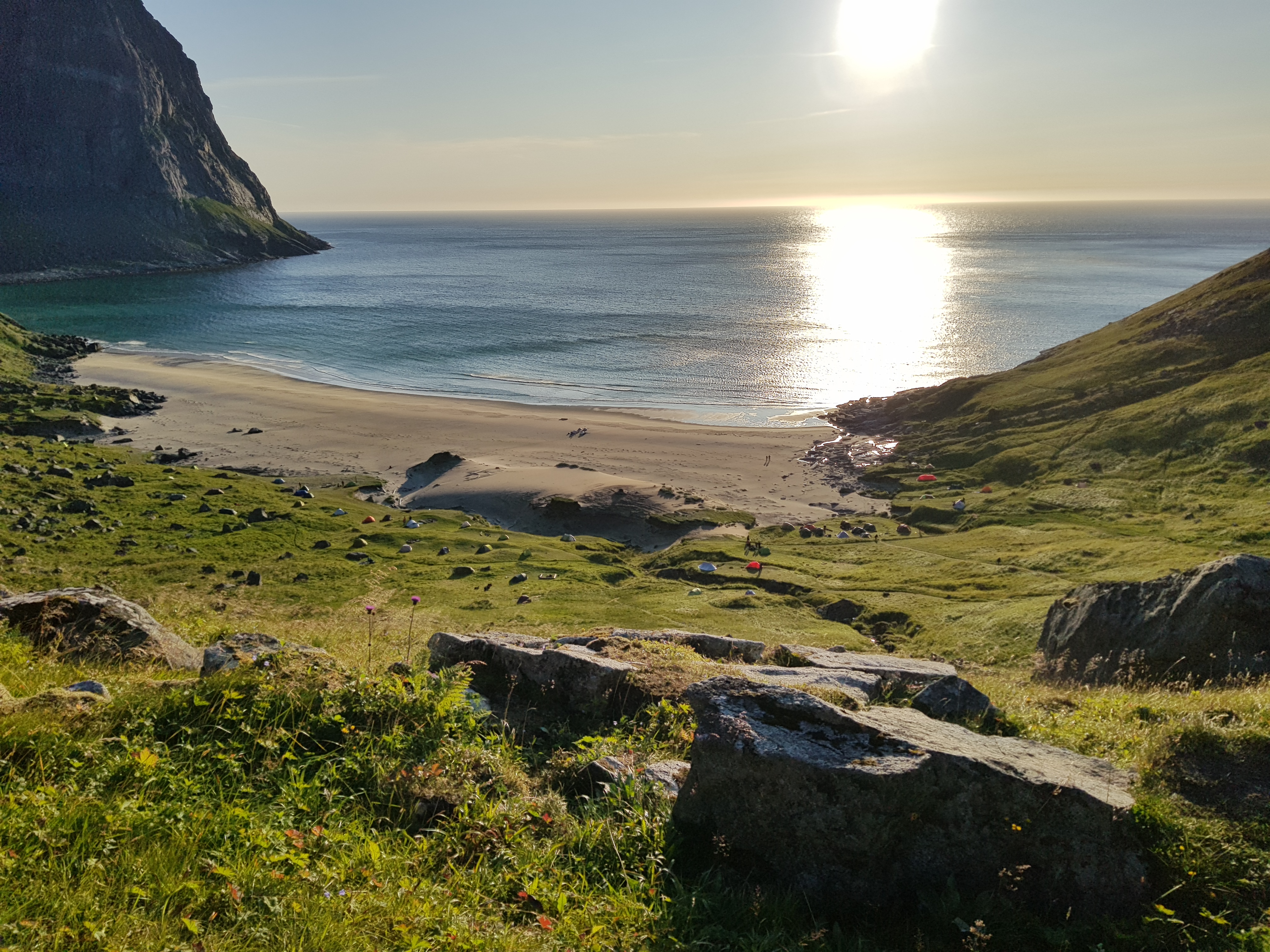 2019-08-01 Ryten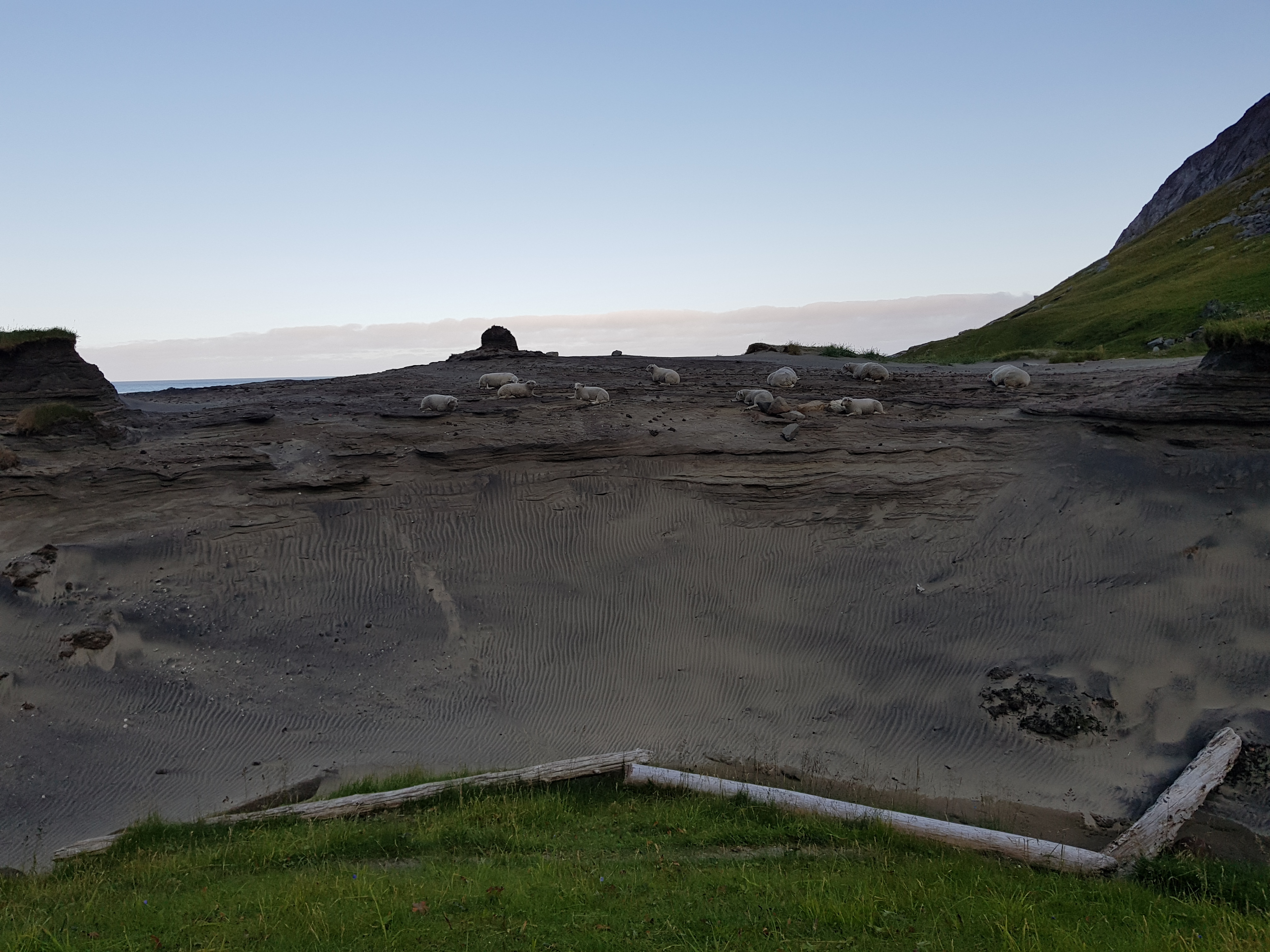 After waking up and finding a sheep herd outside the tent we hiked up to Ryten, and then back to the car.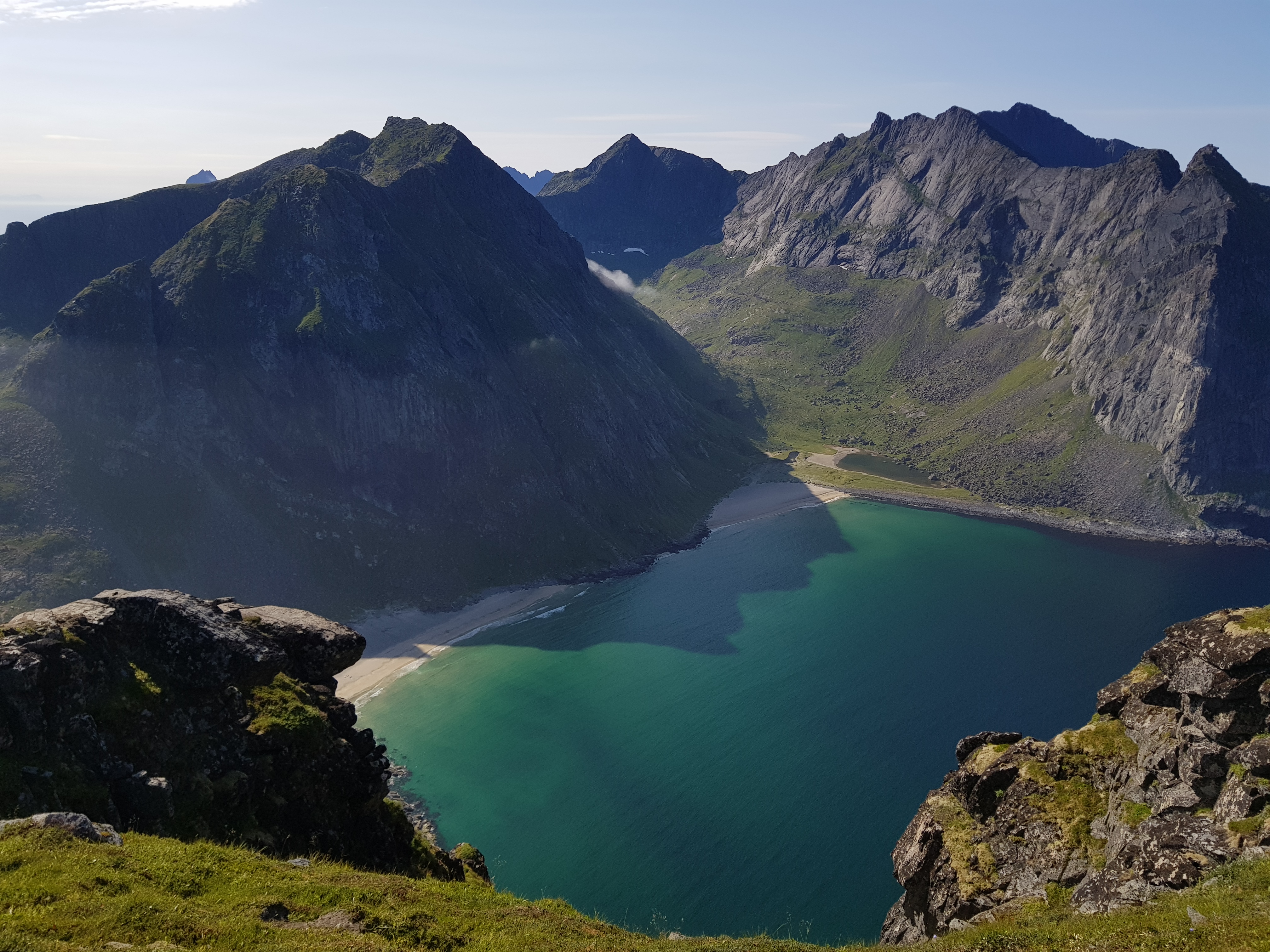 This day we decided to sleep at a camping in Ramberg, to be able to use the utilities like shower and kitchen. The price for a tent spot for one night was 180 NOK.
2019-08-02 Storknubben
This day we took the car to Gimsøya, had a look at the church at Gimsøyasand and then parked close to Jenndalen farm and then hiked up Storknubben. The weather was a bit colder, and foggy today so we saw absolutely nothing when we reached the summit.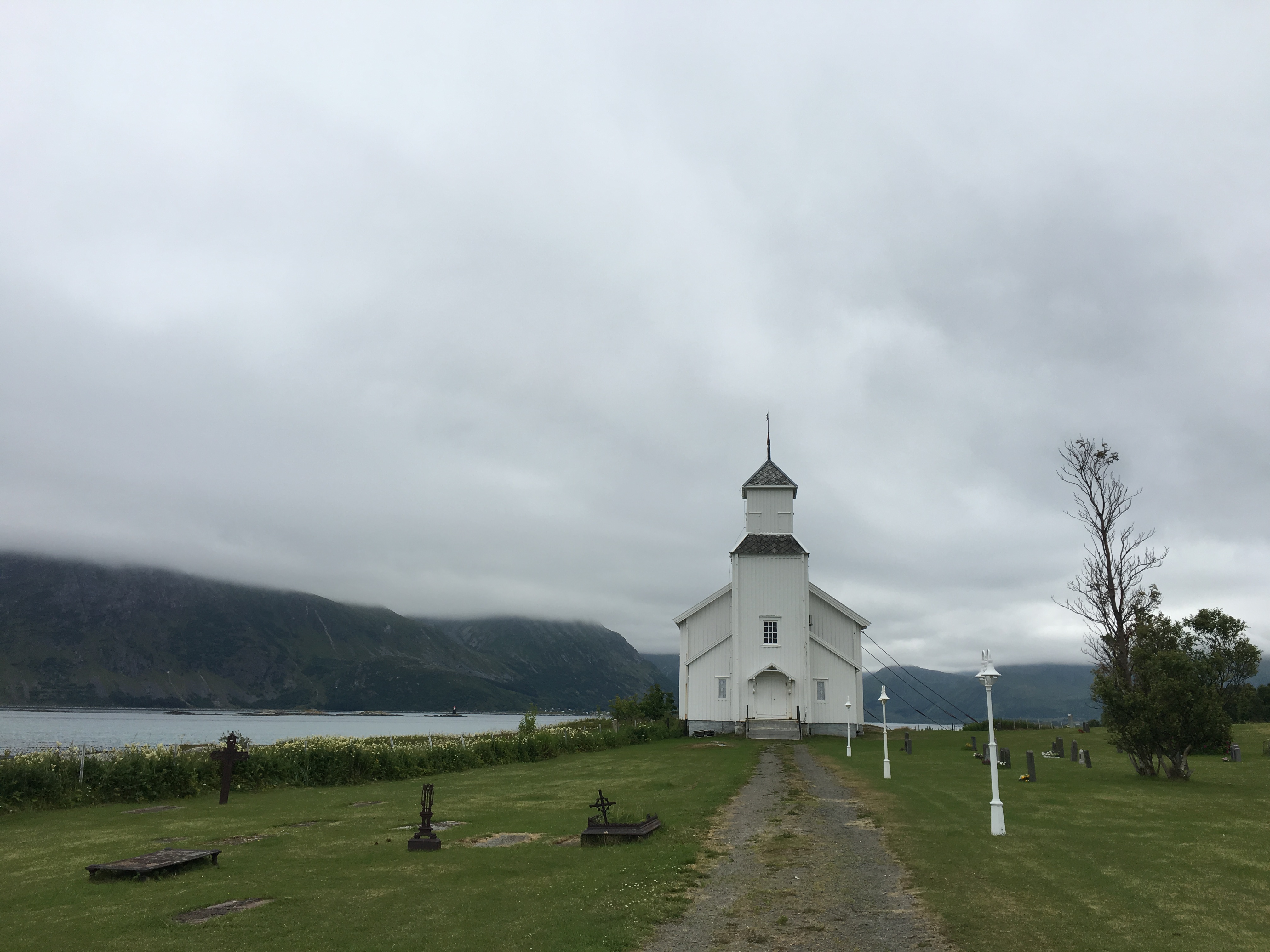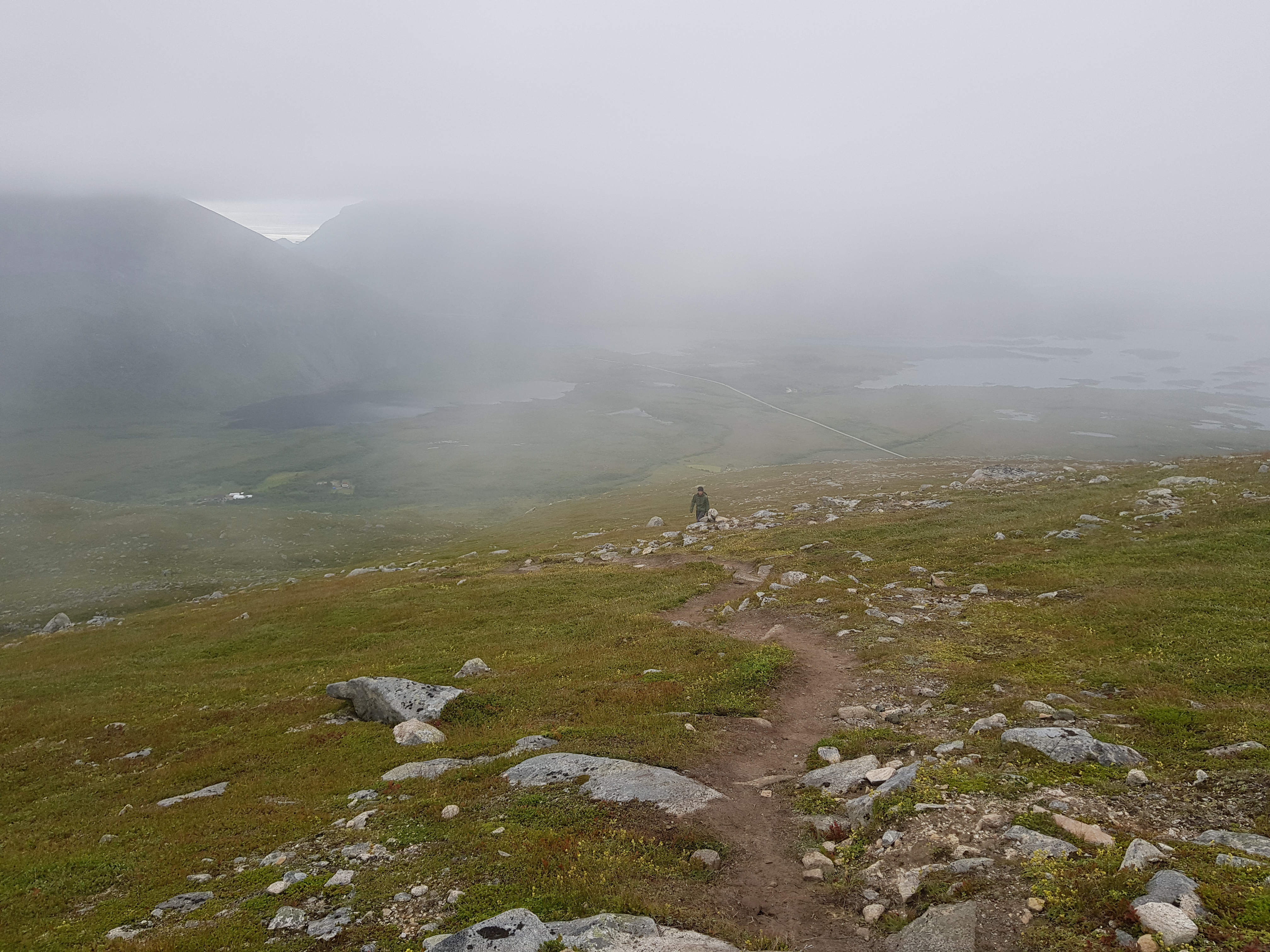 Afterwards we went to Sandvika camping and spent another night with access to utilities. It was fairly big and nicely located by the water.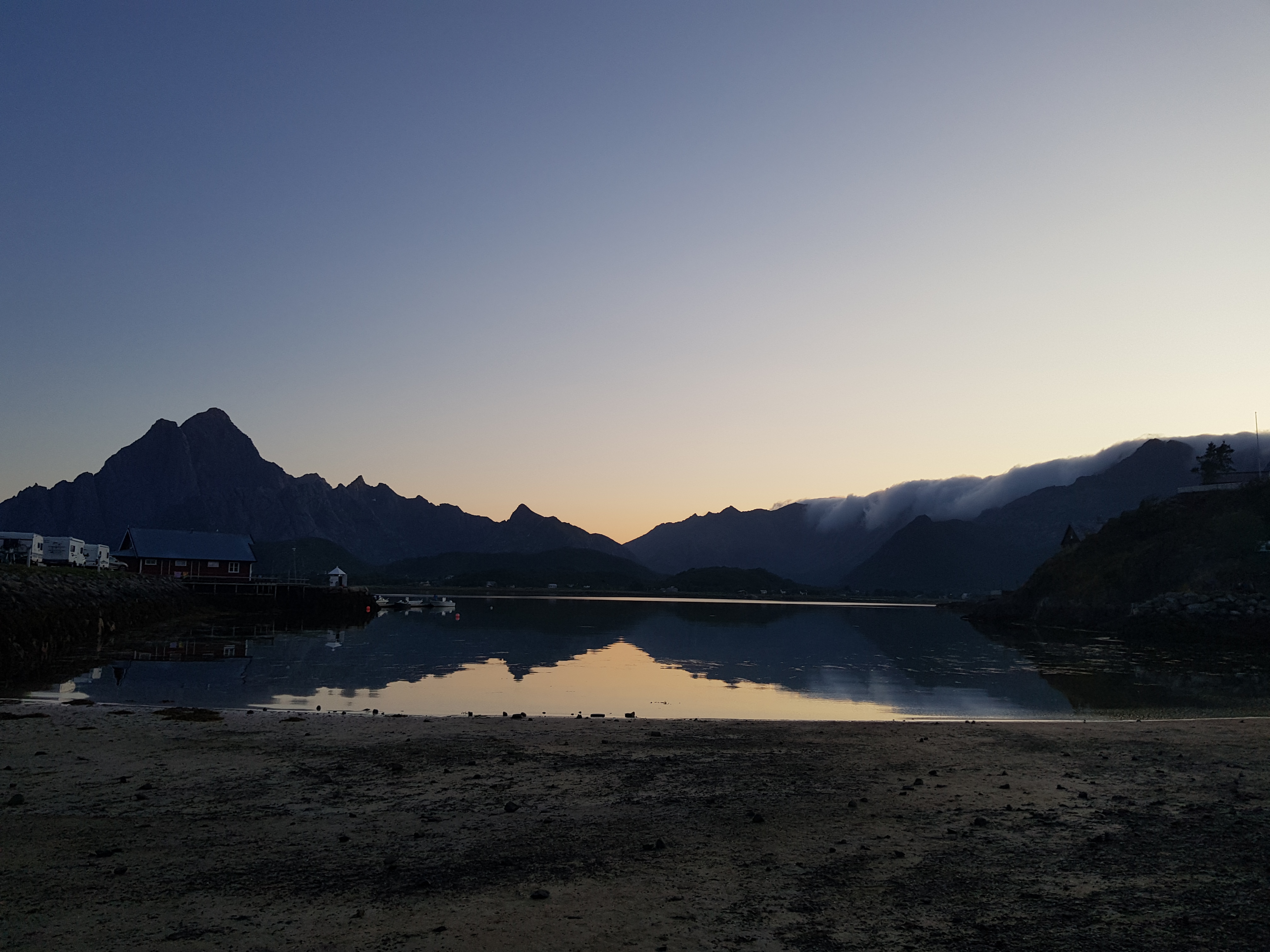 2019-08-03 Fløya and Djevelporten
The next day we drove to Svolvær and parked at Svolvær Chapel to hike up to Fløya and Djevelporten. It was a bit foggy but we had a nice view of Svolvær town.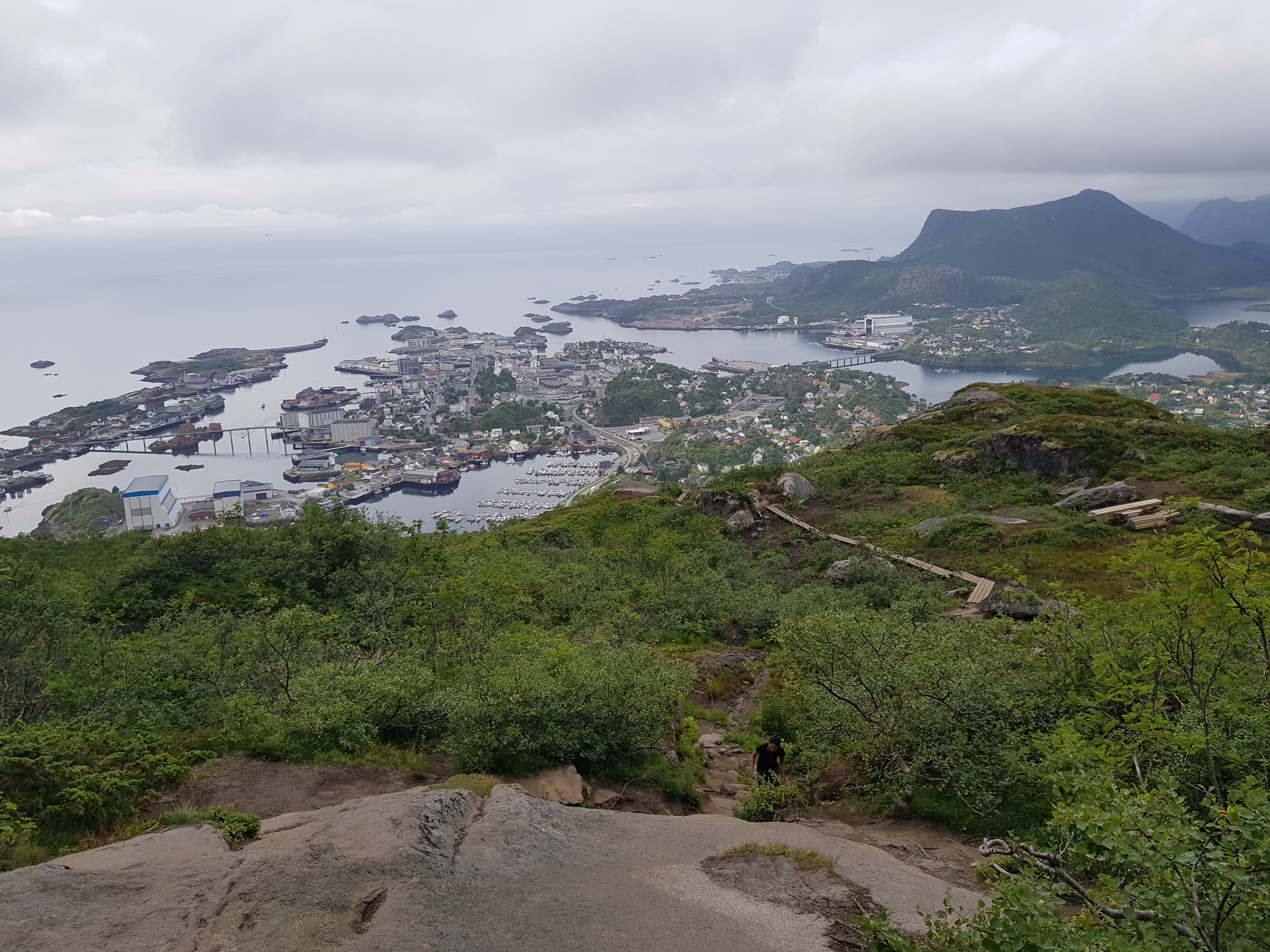 Djevelporten was pretty cool and did not feel dangerous.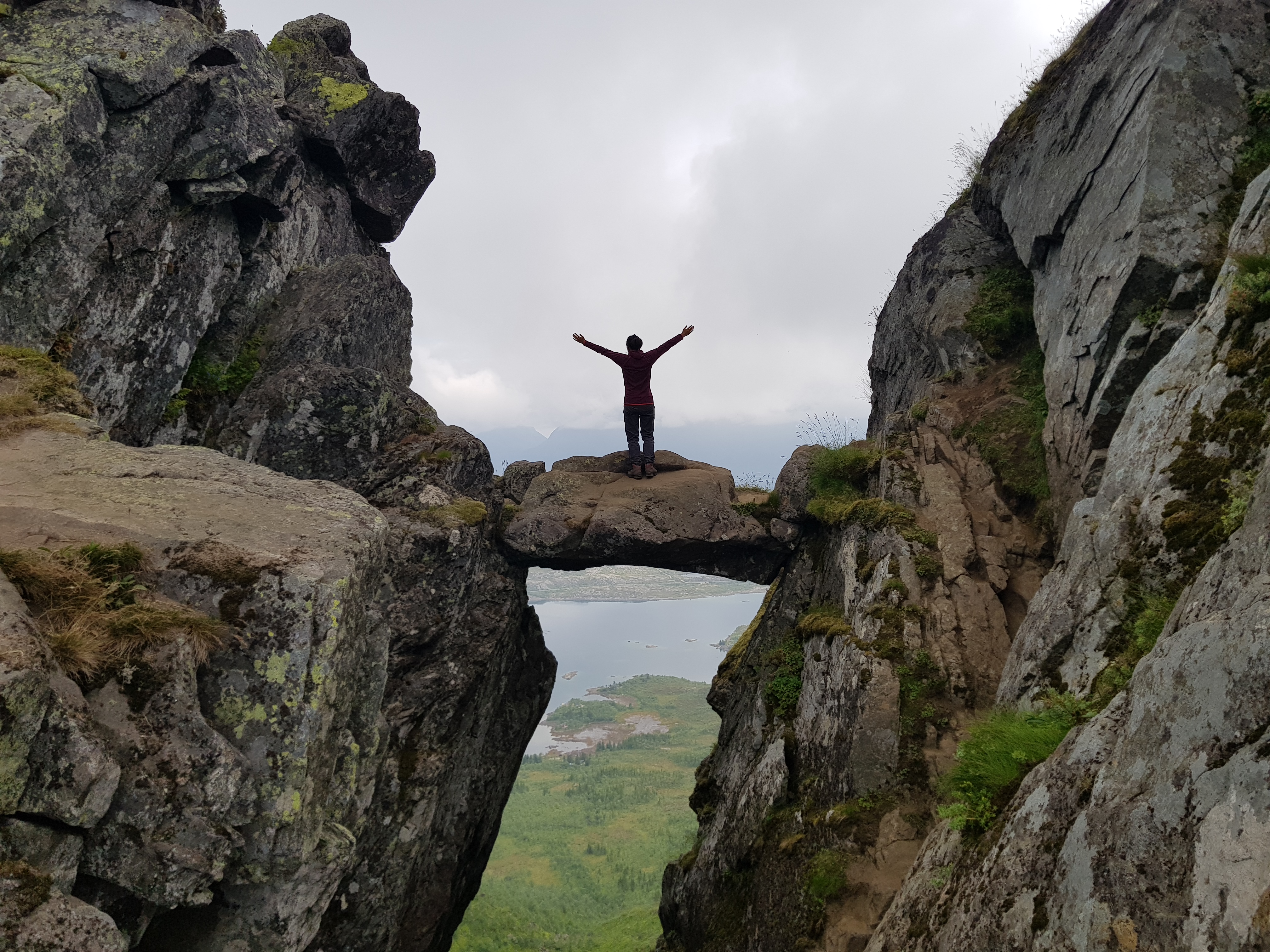 2019-08-04 Going home
On the 4th we started the journey home, first by bus from Solvær to Narvik and then the night train back to Stockholm. Quite a lot of restaurants and shops were closed in Narvik since it was a Sunday, but we managed to find a pizza place where we had lunch.